Opinions and observations from environmental experts, activists, and luminaries
Meet John Feal: 9/11 First Responder and Advocate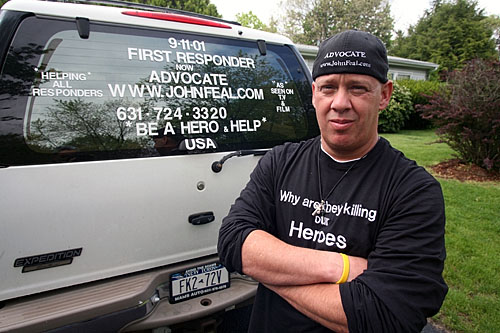 Name: John Feal
Age: September 11, 2001 he was 34 years of age; present day 42 years of age
Residence: Long island
9/11 Reflections: In 2001 John Feal was a 34 year-old US Army veteran and demolition supervisor.  On the days after the terrorist attacks in New York City, John Feal joined what has been called an "army of blue-collar workers" who were all converging upon the smoldering wreckage that was the World Trade Center.  Feal, like thousands of other responders took part in what is said to be "the largest recovery operation in American History". Several days after 9/11, John Feal reported experiencing serious respiratory problems, a condition that is now notoriously known as the "WTC Cough".  Six days after the attacks, on September 17th, an eight ton steel beam crushed John Feal's foot, during what he calls a "frenzied, dangerous cleanup".  He lost half of his foot and spent eleven weeks in the hospital where he suffered from gangrene and nearly died.   
Aftermath Reflections:  John battled with a host of health costs after being denied any benefits due to what he calls an "arbitrary exclusion in the law…he and many other workers who were injured during a 2-week window at Ground Zero did not qualify for the 9/11 Relief Fund".  
Health prior to 9/11: Healthy
What did they think illness was from?: 9/11
Effects on life:  In the wake of September 11th and the Ground Zero cleanup and gradual rehabilitation John Feal established the non-profit organization, the FealGood Foundation.  The primary mission of the FealGood Foundation is to spread awareness and educate the public about the "catastrophic health effects on 9/11 first responders", as well as to provide assistance to "relieve those great heroes of the financial burdens that have been placed on them over the last five years".  (www.fealgoodfoundation.com) Feal says that the secondary goal of his Foundation is to "create a network of advocacy on 9/11 healthcare issues and to not only advocate for Ground Zero workers, but to also show others how they can advocate for themselves and help others through grassroots activism."  John Feal organized the Foundation "based of [his] anger, compassion and love to help those less fortunate" and thus it has become one of the prominent advocates for 9/11 responders.  The Foundation donates time, resources, funding and even body parts – nearly two years ago Feal participated in a triple kidney transplant at Columbia Presbyterian Hospital in New York City, where his kidney was donated to a 9/11 responder.  Feal believes that "when people think of 9/11 all they think of is negative energy.  It happened and it was terrible, the worst thing that ever happened to our country.  Now is the time for solutions and problem solving.  We need to begin disseminating issues so people can better understand what happened, what is happening and what will continue to happen."  Like many of the responders and doctors I have spoken with regarding the vast illnesses that appear to be affecting 9/11 rescue and recovery workers, John reiterates that "there are no experts on these cases (9/11 health cases) because we will never understand the magnitude of the issue.  This was unprecedented and no one knows where to even begin". 
What would John like to see happen in the future?:  "Disseminate the issues and provide support".  John Feal has become a primary advocate and backer of the "James Zadroga Health and Compensation Act" (a.k.a. HR 847) and the FealGood Foundation "will continue to fight as they have been for eight years to get this damned bill passed."  In addition to providing funding, financial and medical support to 9/11 responders the passing of HR 847 has become the primary goal of the foundation.  John Feal asks that we all simply communicate and educate others on the importance of this bill.  That being said, what does John Feal want?  "Ha! All I want in the end is for it to say 'This Man Tried' on my tombstone.  That's it."  
I contacted John Feal several weeks after I had begun delving into my ELEA project.  Initially, the focus and goal of my project was to cover the 9/11 rescue and recovery workers who have reported respiratory illnesses.  After speaking and meeting with John Feal and becoming involved in his Fealgood Foundation I realized that my project encompassed much more than I had expected.  The range of illnesses, the complications that come with discussing such a sensitive subject and trying to understand both sides of this dilemma have proven to be very difficult for me.  It is impossible to not develop some emotional attachment or feeling when tackling this extremely sensitive and tenuous subject.  The complexities and complications of the aftermath of 9/11 and its implications upon 9/11 Rescue and Recovery workers and subsequently the country's law makers and tax payers grew immensely as I met with those who are both apart of and benefit from the Fealgood Foundation, the doctors who treat those who are reportedly ill and the congressional heavyweights, who oppose and some who support the Ground Zero responders.    
Please let me know if you have any thoughts, comments and/or questions!