Did Honey Make Us Human? So Then What Happens When All the Bees Die?
Thanks to Winnie the Pooh, we think of bears as the world's biggest honey cravers. But actually, our early hominid ancestors might have been the ones driven to crack open beehives in search of sweet, gooey calories.

Over at The Last Word on Nothing (which, if you love science and nature writing, should be one of your regular reads), Heather Pringle introduces us to the Hadza, a modern hunter-gatherer society in east Africa that makes honey a major part of its diet -- and why not, since honey is one of nature's most calorie-rich foods.

Hadza hunters listen for the call of a small bird called the greater honeyguide (any wonder how it got that moniker?), which is really good at tracking down beeswax and bee larvae, but not too good at cracking open hives -- so the bird leads humans to the honey by whistling. The men smoke out the bees, nab the honeycombs, and toss beeswax to the birds. Everyone's happy (well, except the disoriented bees).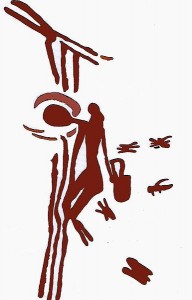 Pringle cites recent anthropology research demonstrating that humans have long targeted bee hives (they're found in ancient cave paintings, like the one on the left) and notes a recent paper in the journal Food and Foodways in which behavioral ecologist Alyssa Crittenden makes the case that eating honey might have been just as important to early members of the genus Homo as consuming large animals or plants on the African savannah.

Indeed, Crittendon suggests that that the world's oldest-known stone tools, sharp flakes from 2.5 million years ago, could have been used for splitting bee hives. Honey = brain food (it's high energy) and could help account for evolutionary changes in our ancestors, including a bigger, energy-demanding brain and smaller molars, which suggest that they consumed a soft, easy-to-chew food source. Honey certainly fits the bill.

All of which makes it all the more troubling and tragic that colony collapse disorder (which OnEarth first wrote about in a Summer 2007 cover story, "The Vanishing") is threatening honeybees and their role in our food supply. Last year, for instance, saw one of the smallest yields in the history of honey production, according to the American Honey Producers Association. (Natural disasters played a role, too.)

We may not be reliant on honey for our easy calories any more (junk food takes care of that), but we'd sure miss it. And knowing the importance honey might have played in the history of our species would seem to make it all the more important that we unlock the mystery to what's killing honeybees (possible culprits include pesticides, disease, climate change, or a combination of many factors) and find a way to keep them, and their honey, around. That would be pretty sweet.
Image: BotheredbyBees/Flickr